Join us as we revolutionize public health.
Did you know meditation is quickly becoming the latest public health service across the globe? Daily meditation in short doses is lowering stress, boosting immunity, and bringing you into the present moment. Mindfulness Lab is a weekly opportunity to learn more about the practice of meditation. Each month Balance teachers will offer different methodologies and tools of mindfulness for you to find more relaxation and freedom in your daily life.
Sundays 5-6pm, Donation-Based Class.
_____________________________________________________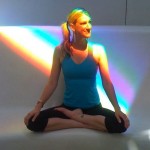 October features mindfulness with Mikhayla Harrell EYRT 500. Mikhayla was introduced to meditation and visualization when she was 12 by her marine biology teacher Bill Wynn. She was initiated  into Transcendental Meditation in her early twenties. She has experience sitting Zazen, Vipassana, Mindfulness meditation and of course practices in Tantric Yoga through the guidance of her teachers Ammachi, the Dalai Lama, Douglas Brooks and Carlos Pomeda. She is deeply inspired by all the living teachers of  meditation who carry the message of mindfulness and the inter-connectivity of all beings.