In this class you'll explore the connection between the breath, emotions and mind.
Each week you'll have time to discuss how the mind transitions into a meditative state and the challenges it may experience along the way.
Questions are welcomed and encouraged!
We'll begin our practice by using the breath to relax the mind.   We'll then sit for a 20 minute guided meditation together.
This class is beneficial for those who are new to meditation or who are more experienced, especially if you like meditating in a group.
Feel free to drop in to any of the sessions and mediate with us.
Payment by donation, monthly membership, or class card.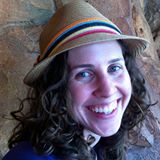 About your teacher – Natalie Kaharick
Natalie was first exposed to the practice of yoga in her teens, as part of a high school PE class. In college, her positive experience on the mat led her to attend a workshop called the Art of Living course. Impressed with the techniques she learned and the clarity of mind it brought her, Natalie trained to become a certified instructor. She has been teaching yoga, pranayama and meditation programs for over a decade and loves sharing these techniques with others.