Saturdays 11:15-12:15pm, starts June 27th
Have you noticed that kids are natural yogis?
They live in the moment, they possess innate flexibility and unlimited potential for growth.
Balanced lives begin with balanced children.  And here's your chance to practice yoga with your little loved one.
Classes encourage your child to use their whole bodies, minds and senses as we engage and educate their entire beings.
Kids use their natural energy and enthusiasm to play, sing and imagine as they explore mindfulness, body awareness, health and Mother Earth.
Classes are for parents and their children ages 2-5. Interested children outside of this range are welcome too.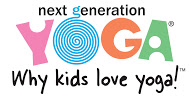 This interdisciplinary approach based on Next Generation Yoga, integrates the fundamentals of child development, traditional yoga ideals, creativity and fun. Playful yoga poses, breathing exercises and relaxation techniques are sprinkled with music, art, books, and educational and sensory elements to create a unique learning experience!
Most importantly, we share the greatest lessons of life from the start: how to understand, express and love oneself, inside and out.
Through yoga, we can positively affect the health, well being and confidence of the next generation.
What benefits can you and your child expect after the class?
• Develop strong, flexible, healthy growing bodies
• Increase concentration, balance and bodily awareness
• Increase confidence and self-esteem
• Spark creativity of ripe imaginations
• Cultivate a peaceful, relaxed state of body and mind
• Acquire tools for stress management
• Have fun with anatomy, health and environmental awareness
• Encourage peer & social interaction
• Exercise self-reflection and tolerance towardslllothers
• Inspire Yoga in other areas of life
• FUN, FUN, FUN!
Saturdays 11:15 – 12:15; $60 for block of four classes or $18 drop-in.
Cost for you and your child: $60 for block of four classes (can be used anytime), $18 drop in rate.
Book your spots here.
About Michelle Smith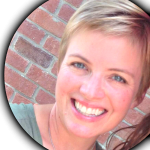 Michelle completed her NGY training in fall 2014. Since then she's helped children at Belle Chase Academy to experience joy, peace of mind, and fun through yoga. She is a full time librarian and has an uncanny ability to charm children of all ages. She's on a mission to help children lead balanced lives through simple tools of yoga – developing flexible and strong bodies, learning to breathe deeply and learning how to treat others with compassion and love.